In the early 1960s, Standard-Triumph Motors needed a small high-performance car with a great deal of practicality compared to the existing TR4 and Spitfire. They used a 1600cc straight-six engine and uprated front and rear suspension, in a more luxuriously trimmed version of the four-cylinder Herald shell. Two-tone paint jobs, fancy wheel covers or even wire wheels, and Lucas foglamps, were not unknown on Vitesses, as opposed to the more spartan Herald.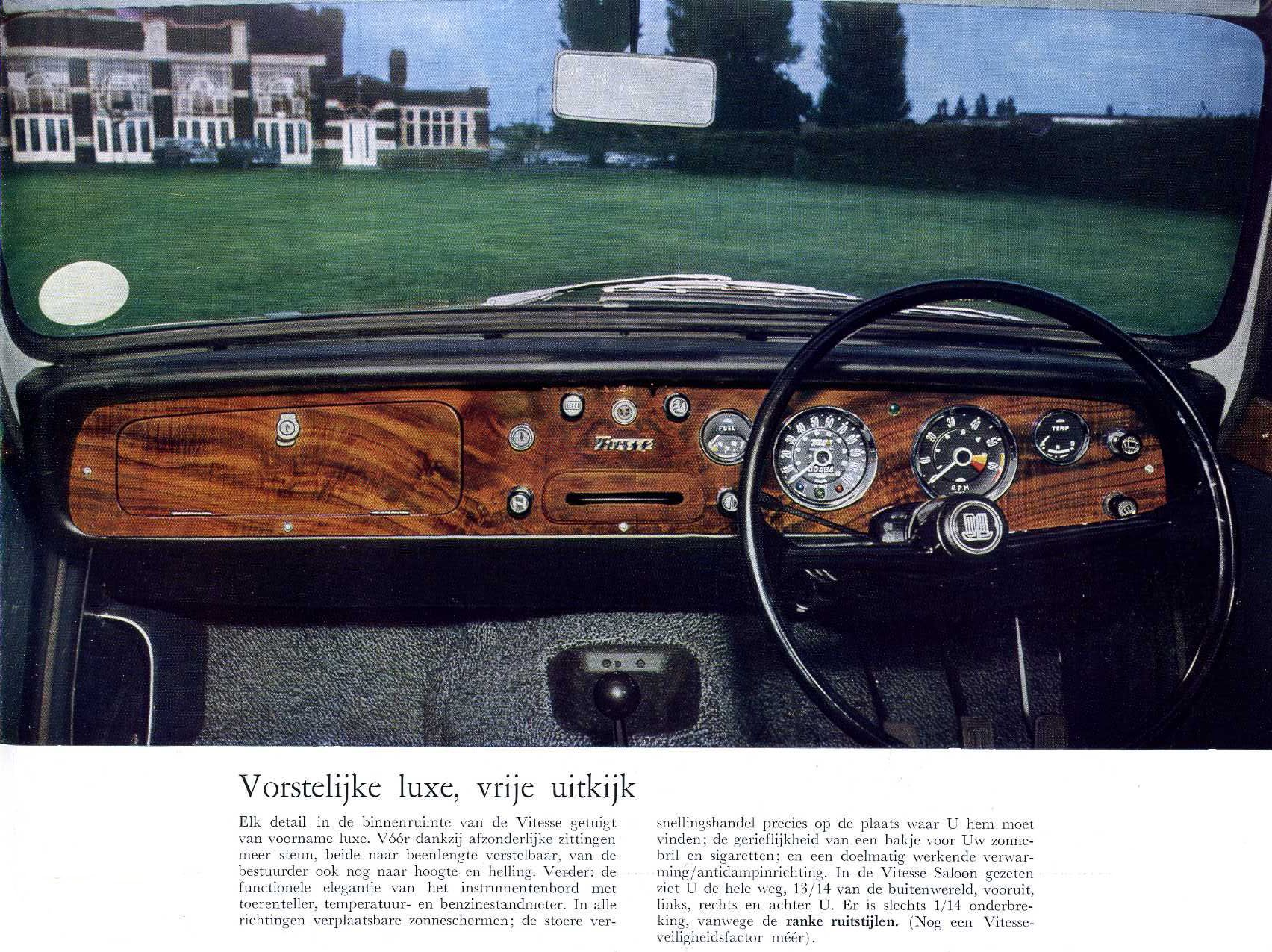 This unknown-language brochure shot shows the Spartan yet luxurious look of the Vitesse's interior.
(C) autominded.net
A convertible coupe and two-door sedan were available, with a coupe never progressing beyond prototype stage, and a handful of custom-built wagons were produced at S-T's Park Royal service depot in London.
In 1962, Triumph attempted to launch a "Sports Six" convertible to compete with other British, American, Italian and German rivals on North American soil, but it was slaughtered by the higher-performing and less expensive Corvair Monza Spyder, marginally cheaper and more fun-to-drive NSU Prinz and Sunbeam Imp, the great value-for-money of the Volkswagen Karmann Ghia, and the more practical Chevrolet Nova, Plymouth Valiant Signet and Studebaker Daytona. The final nail in the coffin of the Sports Six was the Ford Mustang. The Sports Six was duly replaced by the Spitfire-based GT6 sport coupe, and few examples remain today.
The Vitesse continued to evolve along with the Herald and Spitfire/GT6, and was finally laid to rest in the 1971 model year to make way for the all-new Triumph Dolomite. The Vitesse also competed in many races, most notably the Monte Carlo Rally in the early 1960s and the 1971 Trans-Am series.
Production Figures
Vitesse 6 (1600): May 1962 - September 1966; 31,261

saloon: 22,814

convertible: 8,447, includes 679 Sports 6 (USA)

Vitesse 2-Litre: September 1966 - September 1968; 10,830

saloon: 7,328

convertible: 3,502

Vitesse Mark 2: July 1968 - July 1971; 9,121

saloon: 5,649

convertible: 3,472
And now for the diecast version of this article:
I purchased this well-loved little Dinky Toy Vitesse Mark I sedan for $20 at an overpriced antique shop in downtown Eugene, Oregon, painted on its number plates, repainted its lights and "chrome" trim, but left the barn-find esthetics alone otherwise. If this little car could talk, imagine the stories it could tell. My guess is that it was either a cherished souvenir from England or was bought as a birthday/Easter/Christmas gift because it looked like some of the small American cars that were common then (especially the Studebaker Lark) It is quite playworn, but still as cute and lovable as the day it was made and still rolls nicely. It, like most other toys of UK-domestic-market cars and trucks, falls into the Famous Over There category.